The image with animal, climb, tree, branch Stratum - Dreamstime . These are the answers pixwords for your search. To make a more accurate selection of responses pixwords choose the exact number of letters of that word - including spaces. The results will definitely surprise you and will help you get to the next level of the game PixWords.
Great! You have found the answer for pixwords image that gave you trouble. Under the picture below is the answer PixWords.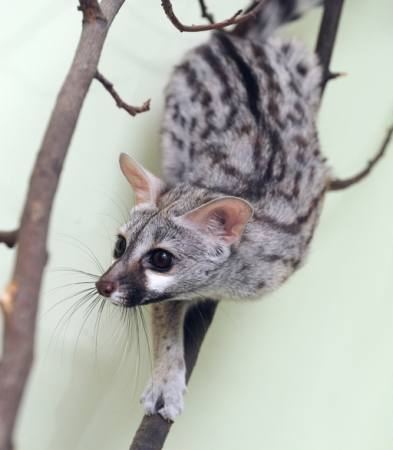 GENET
Save our website and come back here any time you want. All you have to do is to share this page on your facebook wall. This way you always have easy access to the help offered by us pixwords.





Share

Ge·nêt  (zhə-nā′) See Janet Flanner.gen·et 1  (jĕn′ĭt, jə-nĕt′)n. Any of several carnivorous mammals of the genus Genetta of Africa, Europe, and the Middle East, having grayish or yellowish fur with dark spots and a long ringed tail.[Middle English, from Old French genete, of Iberian Romance origin; akin to Spanish jineta, perhaps originally a feminine form (used in the sense bandit to refer to the genet euphemistically because it preys on poultry) of Spanish jinete, horseman, from Old Spanish ginete; see jennet.]gen·et 2  (jĕn′ĭt)n. A group of genetically identical individuals descended from one progenitor, as a group of trees that have all sprouted from the roots of a single parent; a clone.[From genetic (on the model of ramet).]gen·et 3  (jĕn′ĭt)n. See jennet.
You have three Search options. Pick the easier method:
Select the number of letters in the word
(Recommended!)

:
Search by author of the image:
The image is described by the word:
See also these pixwords answers: