The image with round, wheel, object, old, ancient, tele, communication, device Pavel Losevsky - Dreamstime . These are the answers pixwords for your search. To make a more accurate selection of responses pixwords choose the exact number of letters of that word - including spaces. The results will definitely surprise you and will help you get to the next level of the game PixWords.
Great! You have found the answer for pixwords image that gave you trouble. Under the picture below is the answer PixWords.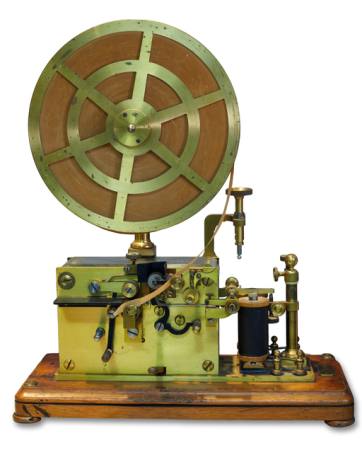 TELEGRAPH
Save our website and come back here any time you want. All you have to do is to share this page on your facebook wall. This way you always have easy access to the help offered by us pixwords.





Share

tel·e·graph  (tĕl′ĭ-grăf′)n.1. A communications system that transmits and receives simple unmodulated electric impulses, especially one in which the transmission and reception stations are directly connected by wires.2. A message transmitted by telegraph; a telegram.v. tel·e·graphed, tel·e·graph·ing, tel·e·graphs v.tr.1. To transmit (a message) by telegraph.2. To send or convey a message to (a recipient) by telegraph.3. a. To make known (a feeling or an attitude, for example) by nonverbal means: telegraphed her derision with a smirk.b. To make known (an intended action, for example) in advance or unintentionally: By massing troops on the border, the enemy telegraphed its intended invasion to the target country.v.intr. To send or transmit a telegram.te·leg′ra·pher (tə-lĕg′rə-fər), te·leg′ra·phist (-fĭst) n.
You have three Search options. Pick the easier method:
Select the number of letters in the word
(Recommended!)

:
Search by author of the image:
The image is described by the word:
See also these pixwords answers: